Skip to Main Content
It looks like you're using Internet Explorer 11 or older. This website works best with modern browsers such as the latest versions of Chrome, Firefox, Safari, and Edge. If you continue with this browser, you may see unexpected results.

Welcome!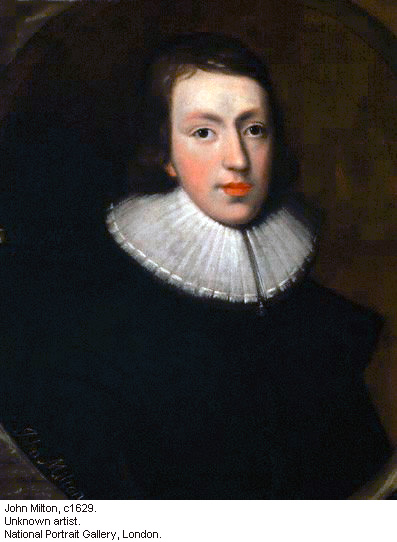 "And yet on the other hand, unlesse warinesse be us'd, as good almost kill a Man as kill a good Book; who kills a Man kills a reasonable creature, Gods Image; but hee who destroyes a good Booke, kills reason it selfe, kills the Image of God, as it were in the eye" (Areopagitica).
John Milton (December 9, 1608 - November 8, 1674)
Acknowledgements
Images courtesy of the National Portrait Gallery, London, Blackwell Publishing, Oxford University, and Southern Illinois University - Edwardsville.
Introduction
This guide is designed to provide information and resources for graduate students taking the Milton Seminar at Purdue University. Print and electronic sources such as databases, journals, reference sources, and books pertaining to Milton and 17th century British Literature and History are all included in this guide. There is also a focus on special collections and a list of rare books that are available in the Purdue Archives and Special Collections, as well as a list of nearby special collections libraries that house rare books written by Milton. The information within this guide should aid graduate students in this seminar in locating materials to inspire original topics for their final research papers and future academic endeavors.
This guide was originally created by Kristin Leaman; revised and maintained by Neal Harmeyer and David Hovde.
"For good unknown, sure is not had, or had / And yet unknown, is as not had at all" (Paradise Lost, Book IX, Lines 756-757).
Karnes Archives and Special Collections
Fall and Spring semester hours:
Monday - Friday
10:00am - 4:30pm
Closed Saturday and Sunday
Website: